What's The Difference Between Freight And Shipping?
Shipping, shipping, shipping! Everyone who shops online (so, everyone, basically) is familiar with the scramble to check shipping costs, look up the minimum purchase requirements, and get the most bang for their buck. Getting into the weeds of the shipping process may not be the most exciting thing, but it can be useful to understand when dealing with larger items. Understanding can alleviate frustration at higher costs and longer wait times: keeping your expectations realistic is often the best way to have a smooth online experience no matter what you're buying.
So, What's Shipping?
As a general term, shipping means everything! If you buy it online, it will be shipped to your home. From a logistical standpoint, though, shipping refers to the transport of smaller goods. Books, small electronics like phones and tablets, clothes, toys, toiletries and cosmetics, and all manner of things are shipped, because they're neither large nor heavy.
According to logistics auditors ShipWatchers, shipping can be defined as,
Small parcel shipments [under] 70 lbs per and shipped in your own packaging or carrier supplied boxes. These shipments are not sent on pallets and often move through a small package shipping system with carriers such as UPS, FedEx, Courier Service, or DHL for international.
So Then What's Freight?
Freight is reserved for items that are bigger and heavier than small parcels. Like, for example, flooring!
Freightquote defines freight as,
Freight shipping is the process of transporting commodities, goods and cargo by land, sea or air. Common types of freight shipping over the road include truckload, less than truckload (LTL) and intermodal. Freight itself can be defined as the goods transported by truck, train, ship or plane. The means of transport commonly associated with freight shipping are trucks, railroad cars and large ships carrying containers.
Most freight is shipped on wooden pallets. Pallets serve numerous purposes like protecting cargo, making it easier to load and unload, and maximizing space during transport. The material is strapped or shrink-wrapped to the pallet in order to stay in place. At Floors To Your Home we use shrinkwrap.
This is a pallet: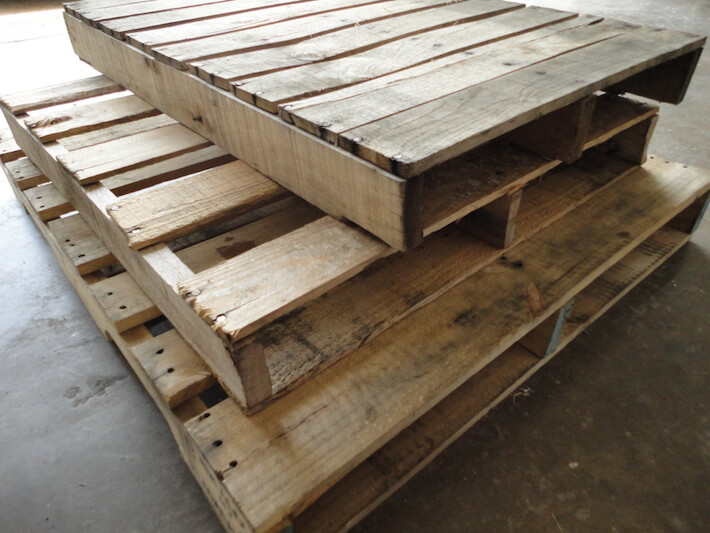 They're reusable, recyclable, and often find second lives in home decor projects when their working days are done. Wooden pallet projects are very popular in DIY circles, as you can see here on our Pinterest board.
How Is Freight Transported?
We use LTL to transport our freight. That's "less-than-load" freight, or less than a semi truck's trailer load of freight. While freight can and often does ship worldwide and across the ocean, we focus on shipping within the continental United States.
LTL is used for things that way between 150 and 15,000 pounds, so there's a huge range of items that travel by LTL.
LTL has several important perks that benefit both retailers and customers:
• It saves money
• It's more secure
• It's easy to track
• It offers more flexibility
LTL saves money because instead of paying for a whole trailer, you're only paying for the space your cargo takes up. At Floors To Your Home we've been using LTL shipping for many years, which has allowed us to build quality relationships with numerous freight companies to get the best deals for our customers! This is part of why we're able to prorate our shipping costs all the way up to free.
Prorating, for those who aren't familiar, means shipping gets cheaper the more you buy. For example, one carton of flooring might cost $100 to ship. Two cartons would cost $190, three would cost $280, and so on, all the way down to free. We prorate all orders on free shipping products that don't meet the minimum purchase requirement. Usually that's 25 cartons, but it does vary.
Why Does This Matter To Customers?
Flooring isn't an expense like groceries or clothing. It's an investment. The associated costs are part of the investment. We don't believe in surprise costs; being upfront is part of our business model and a key to our success.
We go to great lengths to insure our customers understand every step of the process, from browsing to buying to shipping to delivery. We've even got videos detailing what to expect when your flooring arrives.
If you have any questions about shipping, freight, costs, or anything at all, don't hesitate to ask!
Follow Team Floors To Your Home on Facebook