5 Times We Loved Reading The Comments
What's the oft-repeated mantra of internet sanity?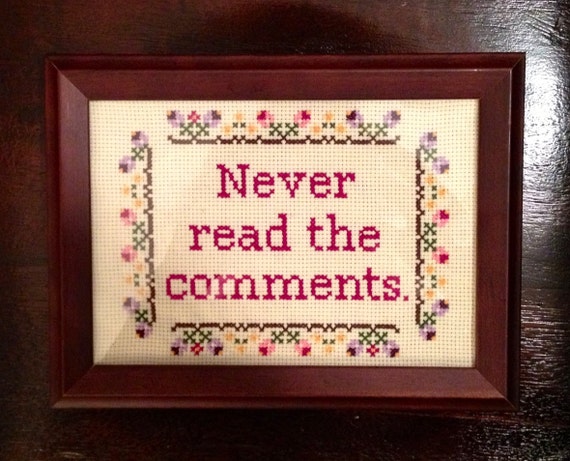 It's for your own good.
Well, friends, unlike some well-known dens of iniquity on the World Wide Web, our blog is a great place to read the comments! We get great questions and we love hearing from you; it really is a delight to chat with our lovely readers and help them make their flooring visions become reality. In that spirit, here's a roundup of some of the queries we've gotten recently, collected here for your reading pleasure. Answers courtesy of Meredith and David. Do I need the expansion gap on both walls or should I butt the flooring up against one wall and leave the gap on the other end? -Bill
You'll want the expansion gap to come between the floor and every wall, or any vertical surface, such as a fireplace or a pillar. I have a question regarding water resistant vinyl plank flooring. How much protection would I have against water? For instance, the cat knocks over my son's glass of water onto the floor and I didn't find out till I got home from work (8hrs later), would there be any damage? -Daniel
Hi, Daniel! As a cat owner, I feel your pain.
To answer your question, all of our vinyl plank is waterproof, not water resistant, so if your cat decides to do what cats do and knock the glass over, your flooring would not suffer any damage. However, if the water seeps through the seams between planks and gets down to your subfloor, you could have some issues with the subfloor, particularly if it's a wood subfloor. Hope that helps! We are putting a log cabin up in Ohio and need a durable flooring material. What do you recommend? We have a large dog and winters are sometimes bad. –Pam
Pam, we asked our specialists. Our very own Jeff replied, "I would recommend loose lay vinyl. It won't really be affected by tough winters, especially if you glue down some or all of the flooring. Big dogs may scratch it up a bit, but the planks are extremely easy to replace, and you can choose to purchase the 20 mil wear layer option for more durability. And if you glue it down then the dogs will probably affect the flooring even less. It is waterproof, so it won't be affected by spills or pet accidents." I'm a realtor in Brevard County, Florida. When I show houses almost everyone notices, in a negative way, when a floor is a laminate. They want "real wood." Some laminates are better than others. People do seem to desire "hand scraped" wood floors. But now that I'm looking for myself, I hesitate to get hand scraped as what comes into fashion also goes out (think avocado green bathrooms). What do you recommend as a good wood floor that would retain its value and stand the test of time but not break the bank? –Karin
Hi, Karin, I asked my guy Adam about this. Here's what he said:
In response to the questions, if you do want to go with a hardwood make sure to go with a species of wood that has a higher Janka rating for durability. We do have several woods that are hand scraped hickory species that are good in that way. I get what you're saying about fads, but I don't think the hand scraped look falls into that area. What will fall out of fashion is exactly what you used for your example – color. With hardwoods this might be something like a deep, red Brazilian Cherry coming into favor and then falling back out, or a wood that is almost black. Those are still stretches – with hardwood not much really enters that fad area. We have had hand scraped hardwoods for years, and they have always sold well. I don't see that ebbing, as some trends do.
I would still recommend trying to go with a laminate over hardwood to get the durability. For laminates whose looks shouldn't alarm a prospective buyer, I would recommend going with one of our Cumberland Falls laminates. They have a deep, hand scraped textured surface and come in and 5″ width planks. They give a very good appearance of real wood. When showing a home with a standard laminate, the kind you see everywhere, such as a 3-strip oak design with only a lightly textured surface, it's easy for the customer to assume that the homeowner went with a cheaper priced product to save on money. These shouldn't do that, and in certain rooms, laminates really are better suited to the needs of the room. They should be considered a positive in a kitchen or a heavily used walkway. What about installing waterproof vinyl in an RV? We are considering our options and I ran across this post. We hve been considering the pros and cons of the grip strip type and the clic lock, but this product is intriguing. Thanks. -Kathy
Hi, Kathy! You can indeed install waterproof vinyl in your RV, however there's a caveat: Installing it outside of a climate-controlled environment (i.e., not in a house) will void your warranty. That said, vinyl floors can put up with quite a lot, and some, especially those designed for heavy traffic, have wear layers for extra protection.
So, short answer: Yes, but be aware of the warranty issue. Don't hesitate to let us know if you have any more questions!
Do you have flooring questions? Do you have questions about flooring questions? Do you just want to say hello and tell us about your day? Whatever you want to talk about, we'd love to hear from you!
Follow Team Floors To Your Home on Facebook