How Is Laminate Flooring Made?
Next up in our "How Is That Flooring Made?" series we have…Laminate Flooring!
What Is It?
Laminate is a multilayered composite product that was originally designed as a less expensive alternative to hardwood. Here's a breakdown of the layers that make up a plank of laminate flooring:
•Backing Layer This is the bottom layer. It's designed to provide more stability and prevent rising moisture. Typically made from melamine plastic, the backing layer is sometimes covered with an attached pad.
•Core Board This is the thickest layer, the real 'body' of the laminate and a wood-derived product. Composed of resin, binders, and wood particles, this layer gives laminate all of its stability. The core board is commonly referred to as High Density Fiberboard (HDF); it's made of leftover wood products from saw mills and manufacturers like sawdust and wood chips. Since no new trees are cut down to gather the aforementioned wood particles, HDF is considered a green product!
•Decorative Layer This is the visible part of the laminate, the photographic image that mimics whatever wood species or tile design that particular style is going for. This layer is very thin.
•Protective Layer This is the very top layer, also called the Wear Layer, a transparent coating that protects the decorative layer and adds an extra punch of durability. They can be high gloss, matte, or somewhere in between.
Through vigorous applications of heat and pressure, the backing layer and core board are fused together and topped with the photographic decorative layer and the top protective layer. It comes off the production line in sheets and is then cut into planks. For a more detailed look at the manufacturing process, check out this post in our Expert Center.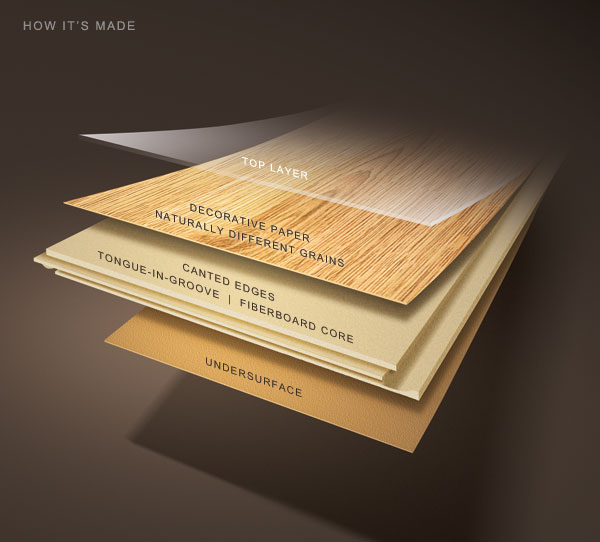 Is Laminate Flooring Safe?
Yes. Laminate is safe for long-term use in your home. The melamine resin in laminate core board contains formaldehyde; however the amount present is strictly regulated. Flooring materials undergo safety testing just like food, cosmetics, medications, work sites and more. As part of our commitment to customer safety and reassurance, Floors To Your Home conducted independent third-party testing at our own expense to make sure every laminate floor we carry is safe. Want to know more? We put together a handy FAQ here. And, as always, don't hesitate to call us at 1-800-804-5251 or chat at FloorsToYourHome.com with any questions.

What Types Of Laminate Are Available?
Laminate is commonly divided by appearance rather than technical differences. As their names indicate, wood look laminate is designed to look like wood, while tile look laminate is designed to look like tile. Another way laminate is differentiated is padding. Some laminate floors have pre-attached underlayment, others don't, and underlayment needs to be purchased separately. Laminate is available in as many styles and finishes as hardwood; there's a wide variety of everything from sleek modern looks to classic designs to trendy rustic distressed looks. Specialty laminate goes off the beaten path with unique colors, wide planks, random width designs, and more! Check out the latest innovations here.
Different laminates are also designed for different purposes. Similar to how hardwood is measured with the Janka scale, laminate floors are measured with the Abrasion Class rating system. The AC ratings go from 1 to 5, with 1 being suitable for moderate residential foot traffic to the heavy-duty 5, which is designed to withstand very heavy commercial foot traffic.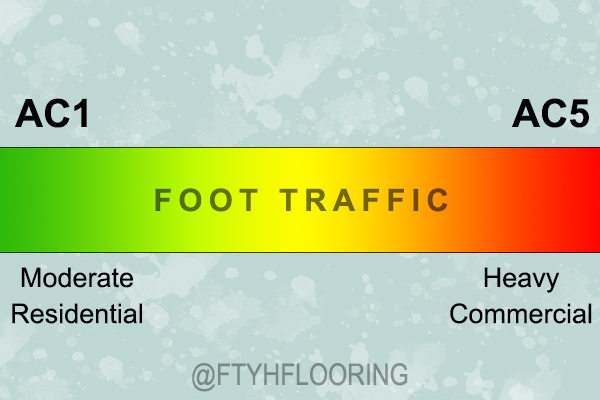 How Do I Know If Laminate Flooring Is Right For Me?
Laminate is arguably the most versatile flooring option on the market today, in terms of both style and usefulness. It's easy to install, available in an unrivaled range of colors and finishes, and highly durable. Specialty laminate is on the cutting edge of style! It's important to note, though, that laminate is water resistant, not water proof. The transparent top layer and the backing layer are waterproof but the core board layer is not, and can swell when exposed to moisture. If you're shopping for a floor that's not going in a moisture-prone area, laminate might be the perfect option, although many people do install it in kitchens and bathrooms without any difficulty.
Laminate is considered to be the best choice for pet owners who are interested in hardwood but concerned about scratches and damage. Since it's easy to clean, laminate is also good for families with children. If you're looking for style, convenience, and strength, laminate flooring may be the perfect choice for you!
Follow Team Floors To Your Home on Facebook