Choosing The Best Floor For Your Pets
At Floors To Your Home HQ many of us are pet owners. We have cats, dogs, fish, and one of our customer service people used to have a skunk.
More than 83 million households in America have a pet as part of the family, and having an animal friend presents unique challenges to the normal household environment. Dogs like to chew. Cats like to scratch. Birds are notoriously messy. Rodents and reptiles don't always recognize appropriate bathroom areas. Accidents happen.
When deciding on a new floor for a household with pets, it's important to take into account several factors: where the floor is going to go, how much traffic it will encounter, and how much wear and tear it can be expected to endure from humans and animals alike. A pet's size and breed must also be taken into consideration. For example, cat owners might have concerns about urine stains and odor, while dog owners may be worried about scratching.
We pet owners ask a lot from our floors, don't we? It really is possible to have a beautiful floor in a house that sees both paw and foot traffic. So, pet owners, what are our options? Let's look.
Laminate
Yes, yes, yes! It's resistant to impact, staining, scratching, and wear, and can take a real beating from an active life with your animal friends. Laminate makes a wonderful floor for pet owners. As with hardwood, you don't want to let spills or accidents sit for long periods of time, but laminate has a much higher moisture resistance than both solid and engineered hardwood.
Another big draw for pet owners is how easy it is to clean and maintain laminate floors. Shedding is easily swept up, messes can be cleaned up without too much fuss, and most stains can be removed. Laminate can also match the look and texture of stone and wood and are easy to clean. Life with pets means a certain amount of unpredictability. Laminate will stand its ground against almost anything you and your pet toss at it.
Ceramic & Porcelain
Porcelain Tile: Porcelain and ceramic are great choices! They're durable, waterproof, and very easy to clean. Scratching doesn't pose a threat, so there will not be any worry from claws damaging the finish.
Modern porcelain tile keeps up with the trends, and can even mimic the look of real hardwood!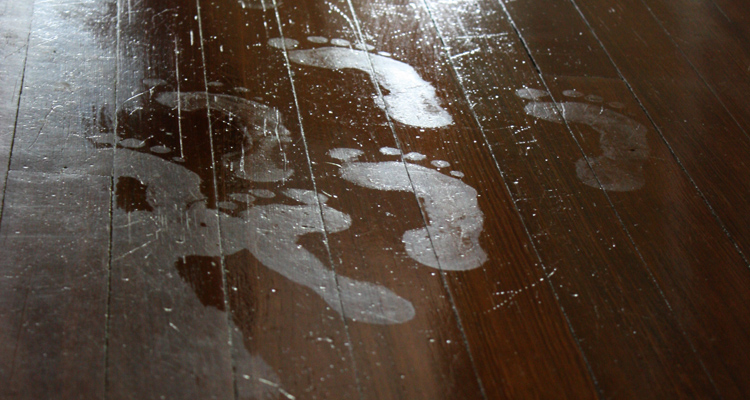 Laminate is very tough but it's water resistant, not waterproof.
Rigid Core Vinyl
This is the newest innovation in vinyl technology. WPC material is a unique 100% phthalate free virgin hybrid composed of wood and plastic that combines the best qualities of laminate and vinyl! SPC is similar, but with stone in place of the wood materials. Pet owners should absolutely take a look at Rigid Core floor; it's waterproof like a vinyl, tough like a laminate, and warm underfoot.
We got this question over on our Facebook page, and since it's a pretty common line of inquiry, we decided to post it here too. Kyle asked,
What flooring do you have that you would recommend for someone who has two dogs?
There are a couple things we'd recommend. Waterproof vinyl is a classic choice, but Rigid Core Vinyl is also very sturdy, so it's waterproof and tough as nails, great for dogs of any size but especially bigger dogs. It's a recent addition to the flooring market and is very popular with busy families, pet owners, and more.
Vinyl
Vinyl is the most resistant to moisture, with most products being 100% waterproof. Dust and dander does not settle into vinyl, making cleaning simple. Vinyl is a soft material and it does scratch.
We recently received this question from Jessica, a dog owner concerned about how vinyl click together flooring would work in her home:
Jessica:

How does your vinyl plank (click) flooring hold up with large dogs?

I'm worried that their nails could pull up the planks, or even worse, get caught in the seams?
If you have large dogs we have a style that has a thicker wear layer. It is still recommended to have the dogs' nails trimmed on a regular basis. But, as for the seams, they all lock together. You should not have any issues about planks pulling up.
Vinyl click together flooring is a popular choice for several reasons: First, click together technology makes installation a snap. Second, it's available in a wide range of colors and styles. Third, it's cost-effective. Who doesn't love a high quality product at a great price?
Both click together and loose lay vinyl are great choices for pet owners.
Hardwoods
If you are wanting a hardwood floor in a house with pets, look for genuine, solid, hardwood planks. They are resistant to scratches and dents, which will prevent kitty from scratching up the floor. For shedding, only a quick sweep is needed to pick up the fur.
However, hardwood is not resistant to moisture so keep a mat under the food and water bowl.
Cat owners will be all too familiar with litter pieces trailing all over the house. Clay litter looks and feels like small pebbles and can cause the same scratching damage when caught in shoe treads or in the paws of larger pets like dogs. Waterproof mats are again your friend with litter boxes; some litter mats available at pet stores resemble shaggy Astroturf, but a carpeted bathmat will work just as well to trap both moisture and litter particles. If you cannot have a mat, keep them in a separate room without hardwood flooring.
It's important to be diligent about quick accident clean up. Standing moisture, whether it's water, wet pet food, urine, vomit, hairballs, or fecal matter, is not good for hardwood flooring.
Hardwood floors can dent from high impacts but this comes more from human footwear, namely high heels. But if you have a big dog that likes to tear around the house at top speed, a hardwood floor could start to see some wear after a while.
Carpet
Though most pets will gladly welcome a rug to lay on, we rarely recommend carpet for pet owners. Carpet fibers can all too easily become a haven for dander, litter particles (cat owners will know what I mean), dirt, and allergens. Pet accidents can also leave unsightly stains and unpleasant odors, leading to expensive cleaning and equipment rental. Smaller pets like ferrets and rabbits also run the risk of getting their nails caught in the material.
Before you go, do have some cuteness to take with you!
- - - - Meredith Foster is a content writer at Floors To Your Home. Away from the office she's a published author, hockey fan, music lover, and mom to a vampire-fanged rescue cat.