What is the best flooring for a basement?
Has it occurred to you that a basement can make up around one third of the floorspace in a home. The cost of finishing a basement can be half the cost of putting an addition (of smaller space) on the house, and can provide an even greater raise on the resale value. A finished basement can be more than just semi-trustworthy storage space and a storm refuge. It can be a play room, a game room, a gym, a family room, a home theater, a full apartment or a home office. It can be anything any room can be, perhaps even an entire floor of rooms, the basic structure of which is already built. Just looking at the pros, it seems strange that unfinished basements would be so common. The problem is not that the cons are insurmountable, just that they are daunting enough to feel insurmountable or not worth the trouble. But look what you get! So we're going to help you get started with what we think might be the most difficult part of the process, finding the right kind of flooring for your basement.
The two main issues, in reverse order of importance, are the coldness of the slab of cement which makes up the bottom of your basement, and the inevitable moisture issues which come with basements.
Temperature
When around the installation of flooring, you will hear talk of "the subfloor." Generally this refers to the structural part of your house to which the flooring you want to walk on will be attached; a bare floor, if you will. In your basement, that's probably going to be a big slab of poured concrete, underneath which is the Earth itself. In some climates, for some of the year, it will be cooler than some bare feet like to walk on. If you have radiant floor heating, then this is a non-issue, otherwise the best way to handle the temperature, if even it is a concern, is to add another subfloor to the top of the concrete. We'll call it a super-subfloor to distinguish the two (that's super as in "above", and this is definitely not an industry term, so don't quote us hoping to sound informed). Not only the material itself, but any air space it creates between itself and the concrete, to say nothing of insulation which might fill that space, will help your top flooring stay warm. Now this super-subfloor will be subject to the same moisture issues as your regular flooring.
Moisture
We can't say enough about the issue of moisture. If you think your basement is waterproof and dry year round, even during record-breaking storms, you should still have it professionally tested before proceeding as such. Then, even if you get the thumbs up, you should still act with caution, assuming that everything going into your basement needs to be able to handle moisture and water. You see, with a basement we don't only concern ourselves with moisture drifting in through the concrete from outside. We have to prepare for condensation from general temperature differences and water heaters, also leaks from dish or clothes washers, defrosting refrigerators, iceboxes left cracked open and installed sinks or tubs. Then there are plumbing leaks, to say nothing of burst pipes, and any flooding issue upstairs affecting the downstairs. It is almost best to assume that some day your basement will be wet, or at least very moist.
What this means is that in a basement, we generally we want to keep away from flooring made of organic material. Anything organic will be a source of food for mold and similar allergens that can get a start with moisture. If we follow this advice, we rule out anything made of wood, including most laminates and Oriented Strand Board (called "OSB", used for subfloors), any organic carpeting and some padding. We should also not install a super-subfloor that sits directly on the concrete, face to face. This can trap moisture. We will need a moisture barrier between any super-subfloor and your concrete.
So our preparation recommendations will be for an imagined basement where the surface temperature, if it's an issue, will be taken care of, but moisture will probably always remain a threat.
The Best Options
Vinyl Flooring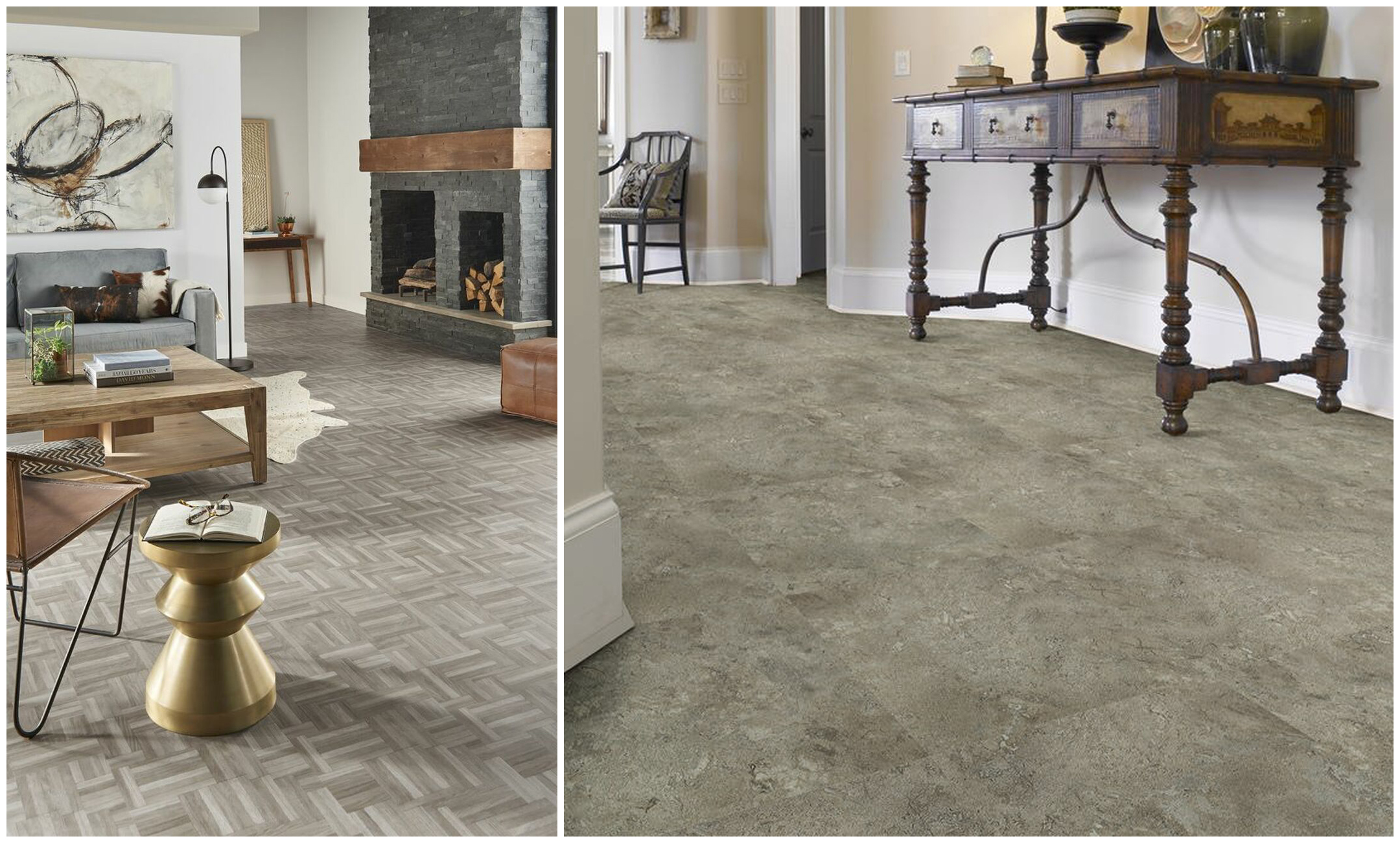 (and related products like Vinyl Composite Tile [VCT], linoleum and marmoleum)
Vinyl flooring is relatively inexpensive, and basically made of plastic, so most of it is 100% waterproof. If you want to see a demonstration, check out our Aquarium Test video.
Our highest recommendation goes to Vinyl Plank Flooring, which long ago advanced to have some pretty amazing wood looks. Vinyl plank flooring can be click-together installed, just like laminates, or Loose Lay, which makes installation, repair and plank replacement even easier. Again, both are 100% waterproof. If you have regularly occurring, standing water, Loose Lay is probably the very best option because regular cleaning under the planks is SO easy. Padding and moisture barriers are definitely not needed with these floors, and usually not even recommended!
Now, vinyl is also available in rolls, the first form in which it was sold. These usually require adhesion to the subfloor, and are slightly more difficult to repair (to say nothing of replace) than planks or tiles. Since it is a printed floor, the look can be anything from wood to stone to checkerboard - anything that can be photographed (and marketable).
When we originally posted this, and had a comments section, a commenter named Stephen asked (and then I answered):
Hello David
My wife and I are in the process of fixing our basement following some water flooding. We currently have wool carpet which we will not use again..and there are concerns with future flooding. We thought that laminate with a vapour subfloor would be the best thing but after reading your info, it appears that laminate is not the best flooring for the basement. With vinyl flooring, are there any concerns with the toxins in the glue that are used to install the floor. My family..wife and two kids are alergic to certain chemicals. Any advice would be appreciated.
Hi, Stephen, I definitely agree that vinyl is the way to go in a basement which is likely to flood, but your best options would require no glue at all. Let me explain product by product, as there are two really good ones.
These are probably the best of our 100% waterproof floors for your situation. As the installation video in that linked post shows, these literally just lay in place. No glue is used, and there isn't even a locking mechanism. Why is it the best option?
1. It's 100% waterproof. With a laminate, hardwood, cork, basically any other non-stone floor, once a flood happens, your floor is essentially gone. It's warped. Might as well be spreadable mush. You have to buy a new one.
These planks will survive any flooding. Your flood is going to do what it's going to do to the basement itself, and there will be some clean-up no matter what, but once you've taken care of the water, these very same planks can go right back down and become your floor again.
2. Cleaning underneath is easy. If you have a regular puddling, or just some big spill, something less than a full flood which you need to dry out, these planks just lift right up. You can do whatever you need with the floor underneath, then dry the planks with a paper towel and put them right back down. With a glue-down floor, if the adhesive holds, you might get trapped moisture, and your subfloor may grow mold. If the adhesive doesn't survive the event, then you would need more adhesive. Neither are great options. For Loose Lay, the glue is gravity.
The fact that these are planks instead of sheet vinyl is beneficial too. If you have a regular wet area on your floor,
a big, room-sized sheet would have to be pulled up and rolled back to the spot so you could clean under it, then re-glued. That's a pretty big task.
3. It's thick. One issue with basement floors is that they can be cold to the foot. Our Loose Lay products are thicker, and more important - denser - then most sheet flooring. These floors are better insulated and warmer underfoot.
Since click together floors have been around for almost 20 years, with laminates and their like, some people are more comfortable with them than they are with a new technology like Loose Lay. That's understandable, and they're a great option too.
1. They are 100% waterproof in the exact same way.
2. Cleaning can be done underneath, but there is a little more of a process to get into the room. You would have to pull these up from the wall to the area you need to deal with, then re-install it back to the wall. It's still much better than glue-down, especially a big sheet, but it takes more work than a Loose Lay.
Neither of these two floors are installed with a moisture barrier, nor any padding at all, so another way Loose Lay can be a slightly better option is that we have some thicker Loose Lay floors, warmer floors.
Will Adhesives Hurt Us?
Not necessarily. In the case of a recurring flood situation, I really don't recommend a floor that needs adhesive in the first place, but if your family has allergy issues, you have an additional reason to avoid it. The issue is that you can know what you're allergic to, but with any of these products it can be hard to find out exactly what they're are made of, what the ingredients are. It can be a trade secret, you see.
As of the date of this post, our glue-down vinyl floors use an adhesive called "Roberts 2310". This is the documentation for Roberts 2310, both the main instructions and info sheet, and the Material Safety Data Sheet.
Roberts 2310 Directions & Information
Our adhesive is documented to be free of toxins by listing the laws and standards it meets. There are quite a few of those, especially on the MSDS. Here is just one quote:
Adhesives and Toxins
Enviro Friendly: • Solvent free • VOC: 0 g/L and 0% by weight Roberts 2310 is a solvent free adhesive and meets the strict requirements of the South Coast Air Quality Management District and may contribute one LEED point for "Low-Emitting Material–Adhesive and Sealant" (IEQ Credit 4.1). This product may also contribute one to two LEED points for MR Credit 5 if product is manufactured within 500 miles of the project site. Visit usgbc.org for additional details. Roberts 2310 is protected by GoldGuard®, an antimicrobial protection system that inhibits the growth of mold, mildew and odor causing bacteria in both wet and dry adhesive.
This is really good, but your family still may have an issue with a specific chemical that is otherwise not a general hazard. You need to do your research on any chemical you might use, and the manufacturers are required to tell you how well they meet a whole bunch of safety standards, but not how they make their glues, so this could be more than just a tough job - it might be impossible to find out. It's another reason for you, specifically, to consider going with something other than a glue-down floor.
Other good floors for your basements
These are as beautiful as they are expensive. Being made of stone, they are almost as water resistant as vinyl, and the tiles can be replaced individually, easing repair. Using larger tiles can make a smaller area look more roomy. Installation is very time intensive, and will get messy. There must be no cracks in the concrete subfloor, and it must be perfectly level, or your top flooring will crack. Its one moisture issue comes with the grout. Moisture can seep in, and mold can grow, in grout lines. If you've raised a super-subfloor above your concrete with a moisture barrier to reduce coldness underfoot, this grout thing shouldn't ever become a problem.
Directly Coating the Cement
This is the cheapest option, and leaves you with nothing to be affected by moisture, no flooring to warp or rot, you can have any color you want, and it's easy to apply. Can you paint a wall? Then you can paint a floor. Staining concrete is a touch more difficult, but allows more creativity via acid-etching. You can put some elaborate designs on your floor if you go the staining route.
With stain, make sure the sealant applied on top can cope with the "hydrostatic pressure" from rising water beneath the concrete or it will loosen and peel. With paint peeling (and chipping) may just be inevitable over the years, depending on the traffic, requiring touch ups and repainting. There are also refinishing epoxies, sometimes called garage coatings, which are troweled onto a floor. The downsides to these are that installation is going to be a messy affair, the floor will be the temperature of the concrete, and in the case of staining there is a waiting period while it cures.
Rubber Tiles
These are also sold for garages, but can work in a basement as well. They lock together and lay on the floor. If you don't put down a moisture barrier, water may collect underneath, but the tiles are non-organic, so you don't have as much risk of mold. You would just have to take them up occasionally, let the floor and tiles dry, and lay them back down. Rubber tiles are squashy, so they will add a tremendous amount of comfort to your walk.
That's it! Not the only, but the best floors for a basement.
In the next post, should you choose to accept it, I'll go over the less recommended options. Some can certainly be done in certain circumstances and with special care, and some should just be avoided. We'll tell you why we think what we think in What are the Worst Floors for a Basement?.
As this is the blog of Floors To Your Home, not Walls To Your Home or Armoires To Your Home, we must limit our advice to our special area. So where do you go for tips and information about walls, counters, lighting, all the other things a room needs to be complete?
Who's the best in those areas?
. . . sighhhh ... don't know yet.
– – – –
David is has written and made videos about flooring products and installation since 2011 at Floors To Your Home (.com), where he is also the PPC Manager, a Researcher, a Website & Marketing Strategy Team member, Videographer, Social Strategist, Photographer and all around Resource Jito. In my spare time I shoot and edit video, put together a podcast, explore film history, and mix music (as in 'play with Beatles multi-tracks'). Connect with W. David Lichty
Follow Team Floors To Your Home on Facebook