Very Common Flooring Terms About Features and Dimensions
Standard Dimensions and Special Features that affect the look of your floor
Width
Most hard surface, plank style flooring comes in around 5″ wide. Some of these will have designs to look like thinner planks, such as 2 strip and 3 strip laminates. Common widths for hardwood planks also include 4″, 3″ and 2 1/4". There are always varieties, but these are our most frequently occurring widths.
Length
Most of our laminate and vinyl plank floors are 4 feet long. They can range from 36" to 84", but 48" is the norm. Hardwood flooring can come in from 4 foot to 7 foot lengths for all boards. They can also be available in what is called "Random Lengths", which means that each box will contain a variety of board lengths for better patterning.
Thickness
It's just what it sounds like, thickness of the board or plank. With laminate, this measurement will often include the pad, if it is already attached. Our laminates range from 7 to 14.3mm thick, the latter being the thickest laminate manufactured. Vinyl Planks can range from 2mm to 8.5mm. 5/16″ to 3/4″ (or 12/16″) is the range of hardwood thicknesses.
Wear Layer
This is the top layer of a plank of wood flooring, or the layer of protective coating on a laminate or vinyl product. Thicker wear layers will have higher levels of durability against scuffing and scratches.
On hardwood, the thickness of a wear layer affects the number of times a product can be sanded and refinished, especially relevant with engineered flooring. With solid, since the entire board is one piece of wood, the wear layer would basically extend all the way down to the tongue portion of the tongue and groove installation system. With engineered hardwood, the wear layer an actual layer, having the species of the product. When you buy an Engineered Oak floor, the top layer, the visible layer, is the oak, and those underneath could be any other type of wood in a series of layers, each placed with the grain structure perpendicular to the next layers. That gives a fair amount of strength and resistance to environmental conditions, but the result is that the thickness of the top wear layer limits how many times an engineered floor may be sanded and refinished. In fact, unlike some other retailers, Floors To Your Home doesn't recommend doing this at all with engineered flooring.
Ply (or plies)
Ply is typically the word used to describe a layer of engineered hardwood. Not all engineered hardwood floors are made of plies, but much of it is composed of multiple layers, anywhere from three to nine plies. The top ply is the face of the material, displaying the species you've purchased. The layers in the middle can be made up of different species, or just different grades of the species on the face. These are stacked at 90 degree angles to each other, and are glued together under high pressure and some heat. With engineered hardwood, more plies means more resistance to denting, greater durability and less response to changes in temperature and humidity.
Edge Design
This is the way the ends of a plank of flooring are cut. The edge design will determine how the planks will look when installed, whether appearing like a single, smooth surface or more greatly resembling the imperfect alignment of actual hardwood boards.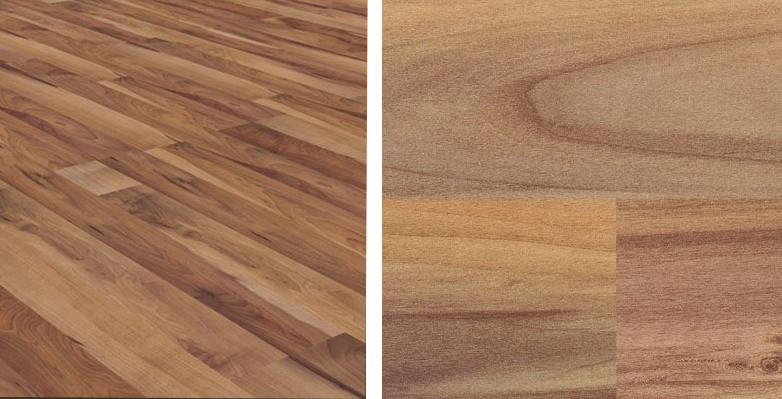 Square Edge
This cut will hide the edges, or seams between floor planks once they're installed. They will connect "squarely". Laminate with this cut leads to a seamless, slide-on-your-socks appearance.

Microbeveled Edge
This is the slightest round edge on a flooring plank. It shows separation of the planks when installed, but to the smallest degree. Any of these three cuts of edges, this and the next two, can provide the additional benefit of hiding minor unevenesses of height between installed planks.

Eased Edge
The next level is the "Eased" edge. When the planks meet, a 45 degree angle will be formed where they join. It's less than a full bevel, but still delineates individual boards.

Beveled Edge
This is the term you will see most regarding edging. "Beveled" describes an edge cut to form close to a 90 degree groove between two joined planks. It is probably the closest option when going for a genuine hardwood look with other types of flooring, or when going for a rustic, or even just less slick, look with real wood, using distressed or handscraped.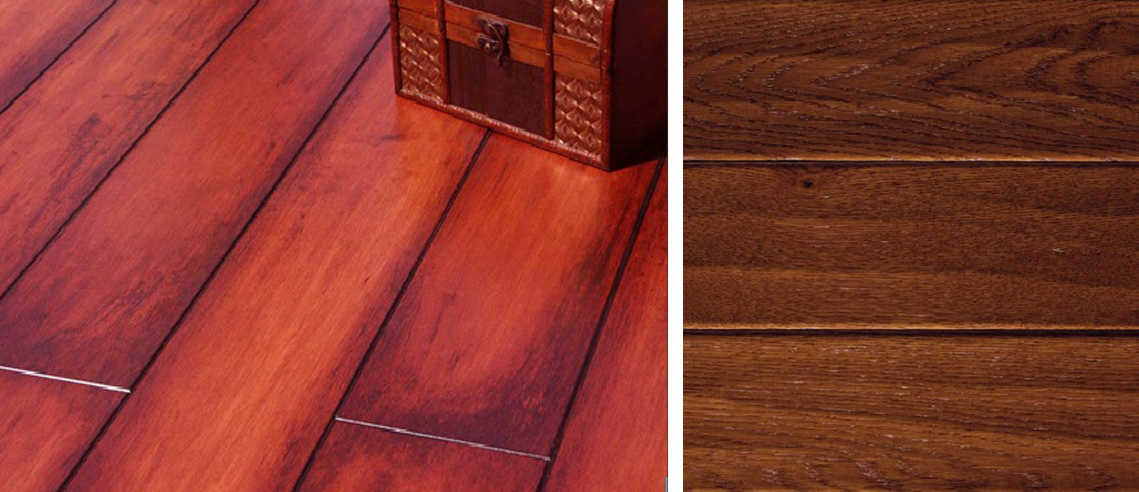 – – – –
David is has written and made videos about flooring products and installation since 2011 at Floors To Your Home (.com), where he is also the PPC Manager, a Researcher, a Website & Marketing Strategy Team member, Videographer, Social Strategist, Photographer and all around Resource Jito. In my spare time I shoot and edit video, put together a podcast, explore film history, and mix music (as in 'play with Beatles multi-tracks'). Connect with W. David Lichty
Follow Team Floors To Your Home on Facebook