The Anatomy of Cabin Grade
We get a lot of questions about Cabin Grade hardwood. It's one of our bestsellers and we do our best to offer as much information as possible about what to expect from a Cabin Grade floor. Here's our President and co-owner Dan Kahn saying a few words on the subject:
What Will My Finished Cabin Grade Floor Look Like?
This is a tricky one. Part of Cabin Grade's appeal is the variation present in the flooring. Since we purchase all of our Cabin Grade flooring sight unseen and don't open the boxes prior to selling them, it's impossible for us to say exactly what the variations will be on a specific flooring order.
Many of these imperfections come directly from the original source: the tree itself. For those who want a hardwood floor that's unique and distinctive, this can be a good thing! Here's a finished Cabin Grade project chock full of variety and character.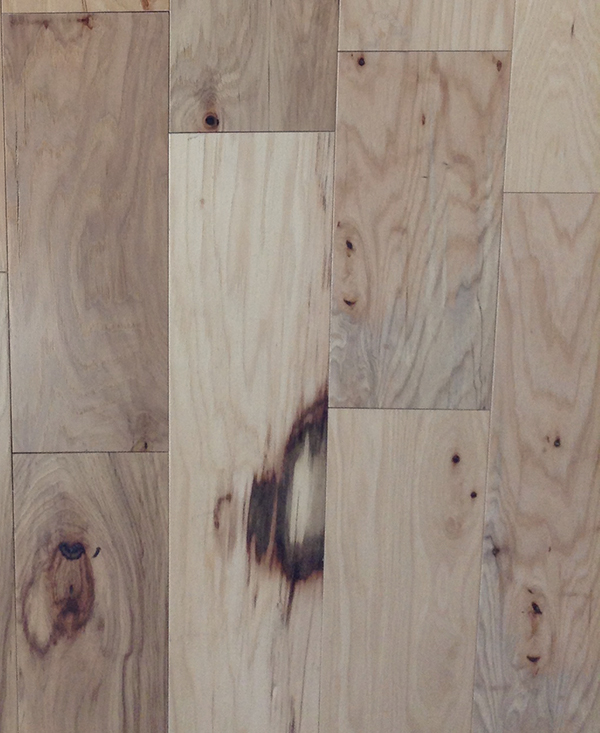 Meanwhile, other finished Cabin Grade projects can look more uniform.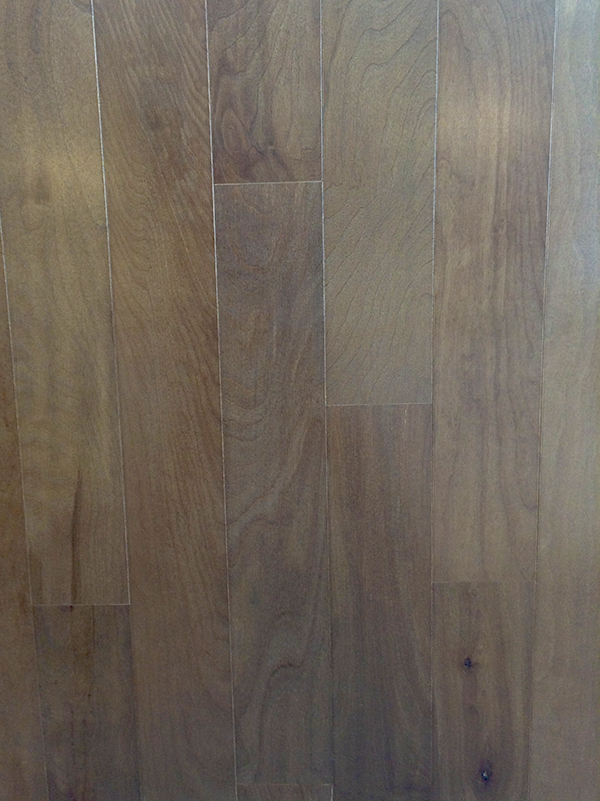 What Types of Imperfections Might Be Present?
The most common imperfections in Cabin Grade flooring are surface imperfections that present an aesthetic issue instead of a structural one.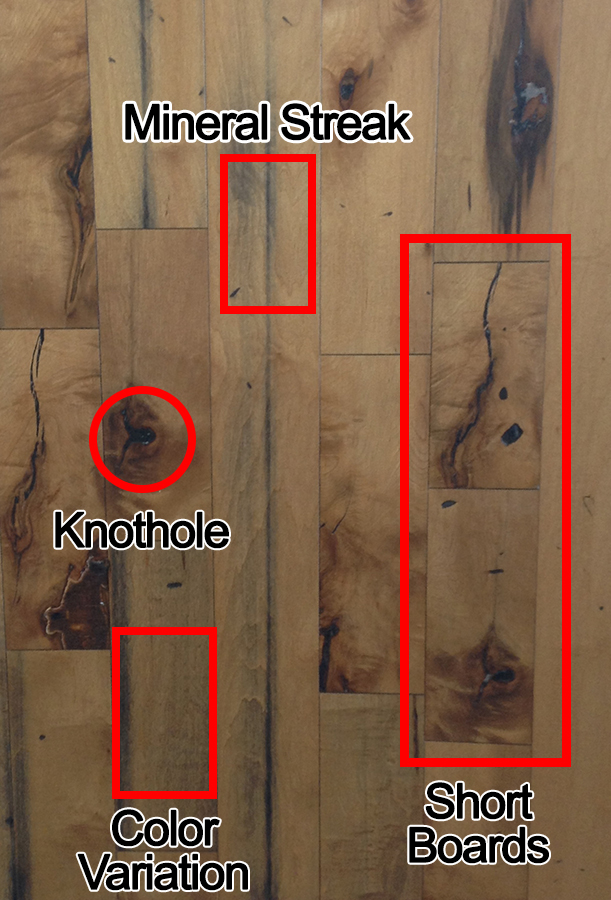 Exactly what it sounds like, color variation is a difference in color that's outside the manufacturer's stipulation for that particular shade of flooring. Color variation in hardwood comes straight from the tree, because no two trees are the same.
Pinholes and wormholes tend are the result of insect activity before the wood is harvested. They tend to be very small, and may or may not be noticeable. Knotholes, by contrast, are more visible. All three of these are natural occurrences and have no effect on a board's structural integrity.
Some Cabin Grade pieces may have surface splits. The boards themselves shouldn't be damaged, but a visible crack to the very top layer may be noticeable. If desired, these can easily be repaired with wood filler, available at your local hardware store.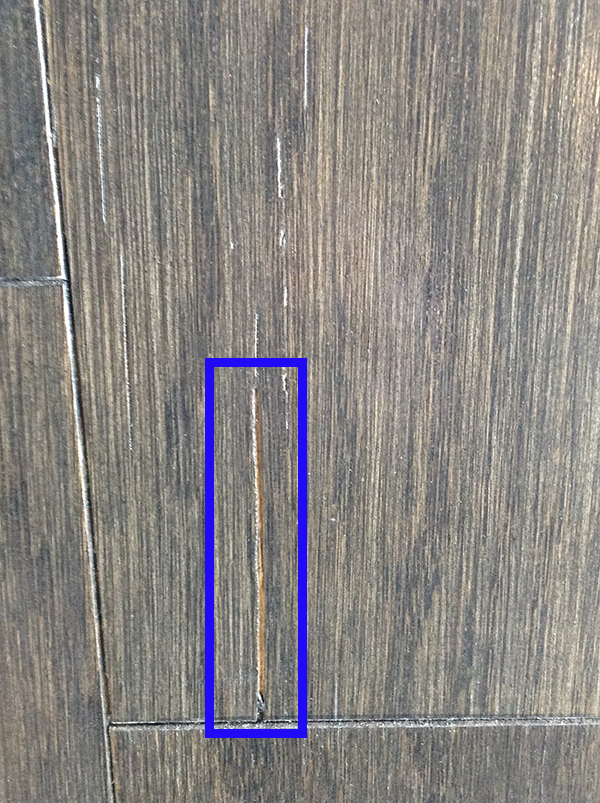 What About Short Boards?
The most common issue we hear about from customers who purchase Cabin Grade flooring is the amount of shorter length boards. A short board is just that: a flooring board that is shorter than expected. Short boards can still be installed as part of your flooring project! They can also play an integral part in giving your floor that unique and characterful look our customers love.
Designer and blogger Jenna Sue of Jenna Sue Design Co. ordered a cabin grade floor from us in 2014 and had this to say about the short pieces: "I was pleasantly surprised to discover that everything just blended together and the board length was not a big deal at all."
Since many Cabin Grade products are random length designs, there's no way to predict how many shorter pieces will be present per box. Short boards are another trait that adds real personality to Cabin Grade hardwood. They're great for lending a rustic look.
So What's The Bottom Line?
We cannot estimate exactly how much of the flooring will contain surface imperfections or short boards. We can, however, say with certainty that 95% of our customers who order fifteen to twenty percent overage on Cabin Grade hardwood are able to complete their flooring project. That doesn't mean that 80% of the flooring is perfect. It means that the material can be installed as a floor and you can finish your project.
Here's a finished Cabin Grade project from happy customer Jen C. Thanks for the great photos, Jen!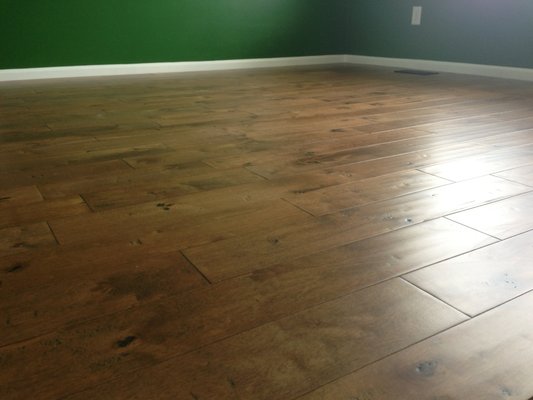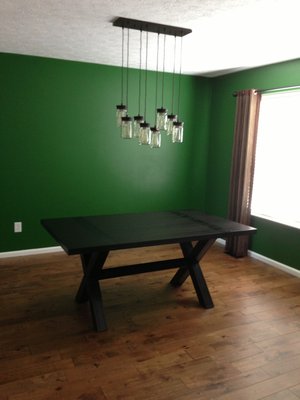 Click FloorsToYourHome.com to chat or call 1-800-804-5251 today!
- - - - Meredith Foster is a content writer at Floors To Your Home. Away from the office she's a published author, hockey fan, music lover, and mom to a vampire-fanged rescue cat.
Follow Team Floors To Your Home on Pinterest
Follow Team Floors To Your Home on Facebook